!-onMouseover Link CSS Script-© Dynamic Drive (www.dynamicdrive.com). For full source code, installation instructions, 100's more DHTML scripts, and Terms Of Use, visit dynamicdrive.com-->

* * * * *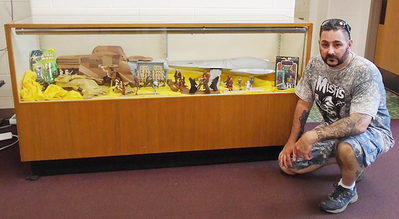 Micah Burks with his display. (Photo courtesy of Clifton Forge Public Library)


Library Features Star Wars Display




Clifton Forge, VA (May 7, 2018) - The Clifton Forge Public Library is featuring a display that depicts scenes from the Star Wars movie, "Episode 1: The Phantom Menace". The display is part of Micah Burks' private collection.

"In the 1970s," Micah says, "they made episodes four, five, and six. Then in 1999 they did Episode 1. This was supposedly the start of the Star Wars movies." Episodes two and three were filmed in 2002 and 2005.

"A lot of people did not like Episode 1," Micah continues, "because of the character Jar Jar Binks. Because he was goofy – a goofy little fellow – people thought it brought too much goofiness into a Star Wars movie."

"The Phantom Menace" is also the movie, he says, "when C-3PO was first introduced and he was without his armor plating." By "Episode 2: Attack of the Clones," C-3PO's character had been completed.

Mr. Burks, who has been an avid collector of Star Wars memorabilia, says, "One of my favorite ships, in addition to the Millennium Falcon which is my most favorite ship, is the royal ship Queen Amidala." The Queen Amidala is highlighted in the display.

Also included in the display is the Droid MTT Tank. "I found it at Marshall's," Micah says. "It was a good find. I was very fortunate to find it at the price I got it for because it's a very expensive piece." Micah keeps it in the original box but adds, "I have removed it from the box for this display only."

A life-long resident of this area, Mr. Burks is retired from the military, having served with both the Navy and the Army. He served five tours of duty – Operation Desert Storm, Operation Desert Shield, Operation Bosnia, Operation

Somalia, and Operation Iraqi Freedom.

The Star Wars collection will be on display throughout May.

The Clifton Forge Public Library is located at 535 Church Street.

For information on any library program, call 863-2519.
* * * * *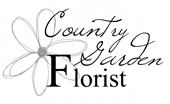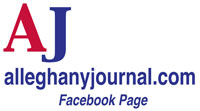 BACK TO THE JOURNAL'S HOMEPAGE!
* * * * *
KEEP UP WITH THE LOCAL NEWS! SIGN UP FOR ALLEGHANY JOURNAL BREAKING NEWS BELOW!
FREE Breaking News Sign Up Here!
---