* * * * *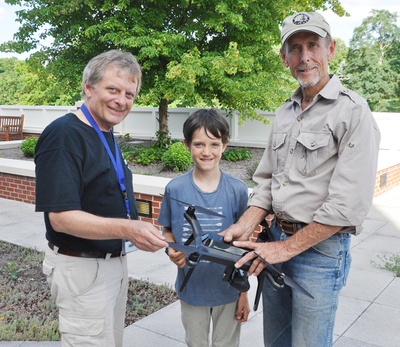 Lexington resident and drone enthusiast, 10-year-old Henry Achin (center), talked about the exciting world of flying drones recently with Don Henke (right), instructor for several drone-flying training courses being offered by Dabney S. Lancaster Community College this summer and fall. Also pictured is Doug Jones, programming coordinator for DSLCC's Workforce Solutions and Community Education. The trio were attending the "Rock the Bridge" festival held recently in downtown Lexington. To register for the 3-credit drone course, which begins August 20 on the DSLCC Clifton Forge campus, call Student Services at (540) 863-2820. For more information about a series of non-credit one-day drone classes – the first one is scheduled July 21 - contact Jones at (540) 863-2870 or email djones@dslcc.edu.


Drone Flying Classes Offered at DSLCC This Summer and Fall




Clifton Forge, VA (June 28, 2018) - A series of drone-flying training classes, both credit and non-credit, are being offered on the Clifton Forge campus of Dabney S. Lancaster Community College in the coming weeks. The instructor for all of them is Don Henke, who has had a 40-year career as an international, instrument-rated, multi-engine, manned aircraft pilot.

A one-day non-credit course, "Small Unmanned Aircraft System (Drone) Qualification Course," is a ground school designed to prepare students to operate drones within U.S. airspace, in accordance with rules and regulations established by the U.S. Federal Aviation Administration. The course prepares students to sit for the FAA CFR Part 107 Remote Pilot Airmen Certificate test and to safely and legally operate drones under 55 pounds. The tuition fee is $240.

Six separate Saturday dates have been scheduled for the one-day Part 107 remote pilot qualification class: July 21, August 18, September 15, October 20, November 17 and December 15. The ground school is a classroom course and will be held from 9 am to 1 pm.

"Flight Training on Small Unmanned Aircraft Systems (Drones)", is a two-hour non-credit hands-on course, designed to qualify students for drone pre-flight and flight operation. Enrollment relies upon successful completion of the Qualification Course, but does not require possession of a valid drone license from the FAA. The instructor furnishes the drone, and the student will log two hours of actual flight preparation and flight time, performing tasks typical of commercial drone operations. Skills taught will include mission definition, preparation for flight, weight and balance, mission execution, basic and advanced flight maneuvers and more. The tuition fee is $160. This flight training class may be scheduled upon request.

For more information on the non-credit classes, or to register, contact DSLCC Workforce Programming Coordinator Doug Jones at (540) 863-2870 or email djones@dslcc.edu.

sUAS Remote Pilot Credit Course Begins August 20

A three-credit all-semester course, "Small Unmanned Aircraft Systems (sUAS) Remote Pilot Ground School" (UMS 107) is scheduled on Mondays, 1:00 to 3:45 pm, in Room 648 in the DSLCC Armory, beginning August 20. The course will prepare students to sit for the FAA written examination required to obtain the Remote Pilot certificate.

"The semester-long course provides much more training on how to operate drones and is the first course in a planned career studies certificate," explains Dr. Ben Worth, DSLCC's Vice President for Academic Affairs.

The credit course covers all of the material presented in the one-day class, but additionally covers a number of other topics related to sUAS applications in various fields, such forestry, agriculture, law enforcement, fire-fighting, emergency/search and rescue operations, construction, and bridge/tower inspection, among others.

Topics to be covered in the credit course will include applicable regulations relating to small unmanned aircraft system rating privileges, limitations, and flight operations; requirements for small UAS registration, markings, and conditions; emergency procedures; aviation weather sources; airport operations; radio communication procedures, and many more.

For more information about the all-semester 3-credit course, contact Dr. Worth at (540) 863-2933 or email bworth@dslcc.edu. To register, call DSLCC Student Services at (540) 863-2820.
* * * * *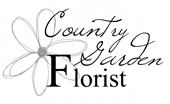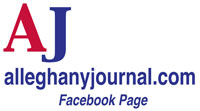 BACK TO THE JOURNAL'S HOMEPAGE!
* * * * *
KEEP UP WITH THE LOCAL NEWS! SIGN UP FOR ALLEGHANY JOURNAL BREAKING NEWS BELOW!
FREE Breaking News Sign Up Here!
---