* * * * *
The 2017 teachers and educators of the year are from left to right: Tondalya VanLear, Pam Myers, Jeremy Bartley, and Jimmy Fridley. (AlleghanyJournal.com photo by Jerry E. Clark)


Chamber Dinner Attracts Many; Fury Takes Helm As President
Lane Tells Crowd: Being President This Past Year Has Been
By Jerry E. Clark


White Sulphur Springs, WV (March 11, 2017) - The 38th Alleghany Highlands Chamber of Commerce annual dinner came off without a hitch tonight, with a couple hundred regional supporters showing up at the Greenbrier Hotel for the event.

Outgoing chamber president, R. Craig Lane thanked the organization for allowing him to serve and noted that, "This has been a humbling experience for me, as I have learned so much from the Chamber staff and our members. I have met many wonderful people in the community - business leaders, community leaders, and individuals - that donate so much of their time to making the Alleghany Highlands a great place to live, work, and raise a family."

And, he added, "In 2016, your Chamber was a part of, or hosted, 46 separate events. The Chamber was a part of an additional 11 on-going activities that promote tourism and business in our area. We welcomed 13 new members to the Chamber, and were a part of 8 ribbon-cutting events."

Lane then introduced new chamber president, Schuyler Fury who said that, "As I embark on this new role, as President of the Alleghany Highlands Chamber of Commerce and Tourism I feel confident that I will be successful because of the outstanding businesses and leaders that provide guidance and support just as they have for so many this past year."

"Each one of us has a special trait or talent to share. My challenge to you for this coming year and beyond is to encourage others, support others, be there for others, and guide others to grow and be their best. What makes the Alleghany Highlands great is the way we, the people, rally around each other in a time of need or in a time of celebration."

The Chamber also presented several awards:

• Educator of the Year Awards

- Alleghany County Schools - the Teacher of the Year award for Alleghany County Public Schools has 10 years of experience and currently serves as JK-5 Physical Education teacher at Sharon Elementary: Jeremy Bartley.

- Covington City Schools - the Teacher of the Year award for Covington City Scholls has 40 years of experience and currently teaches First Grade at Edgemont Primary - Ms. Pam Myers.

- Jackson River Technical Center - The Educator of the Year for Jackson River Technical Center has owned his own business for many years and is now using his real life skills to also teach carpentry, where he is in his second year of teaching: Mr. Jimmy Fridley.

- Dabney S. Lancaster Community College - The Educator of the Year for Dabney S. Lancaster Community College is Associate Professor of English and Education Program Head for 13 yeares and has 18 total years of experience: Ms. Tondalaya VanLear.

• Ruth Middleton Volunteer of the Year award: criteria used in determining the volunteer of the year award is impact on community, number of volunteer hours, years of service, significant achievement for current year, diversity of volunteer service. (Ruth Middleton served the community as a volunteer for many organizations including the Chamber, YMCA Child Care to name a few. Nominees for the award were Wendy Hudler, Paul Linkenhoker, John Rainone, Johnette Roberts and Patsy Snead. The Ruth Middleton Award was sponsored by Highlands Community Bank, which donated $1,000 to the charity of choice of the 2016 Volunteer of the Year recipient. Paul Linkenhoker was honored as the choice.

• Dogwood Award for Beautification: nominees were Alleghany Asphalt & Construction Inc, the Historic Masonic Theatre and Ridgeline Physical Thereapy. The Historic Masonic Theatre was the category winner.

• Website of the Year Award: criteria for the selection include content and relevance, appropriately maintained and current, represents the Alleghany Highlands, organization and navigation and visual design. Nominees werer Alleghany County, Olde Town Covington, The Flower Center, Town of Clifton Frge, and Visit Clifton Forge, Va. The winner of the website award was The Flower Center of Clifton Forge with App IStudio named as the designer.

• Business of the Year Award: criteria included job creation, business advocate, innovation in product or service and community involvement. Nominees were Chapman Plumbing, Heating & Air Conditioning, Historic Masonic Theatrer, Ridgeline Therap0y and Williams Fabrication Inc. DBA JenFab. Chapman Plumbling the Heating was selected for the award.

Other Notes

• Entertainment sponsors were: B. A. Rupert Real Estate, Inc., Balchem Corporation, Carilion Clinic, Garten Trucking, H&M Electric & Construction, Inc., Hope Counseling & Consultation, Corp. and LewisGale Hosital Alleghany.

• Country Garden Florist provide the many floral arrangements for the evening.

• Programs and table signable were provided courtesy of Alleghany Printing.

• Retiring board members: Martha Atherholt, Jaimie Hale and David Oliver.

• Chamber executive committee: Schuyler Fury (incoming president), Rachel Thompson (President-elect), Nicole Bennett (vice president) and Brittany Gilbert (treasurer).

• Newly-elected board members: Lori Barbour (LewisGale Hospital - Alleghany), Erin Harrison (Ingevity), Casey Nicely (First Citizens Bank) and Gary Whitehead (HIghlands Comunity Bank).

• Other current Chamber Board members: Schuyler Fury, Craig Lane, Rachel Thomson, Nicole Bennett, Britany Gilbert, Kester Dingus, Wes Walker, Darren Reed, Jennifer Unroe, Martha Crawford, Kurt Feazell, Steve Bennett, Davd Crosier and Gayle Hillert.


* * * * *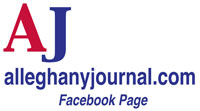 BACK TO THE JOURNAL'S HOMEPAGE!
* * * * *
KEEP UP WITH THE LOCAL NEWS! SIGN UP FOR ALLEGHANY JOURNAL BREAKING NEWS BELOW!
FREE Breaking News Sign Up Here!
---