!-onMouseover Link CSS Script-© Dynamic Drive (www.dynamicdrive.com). For full source code, installation instructions, 100's more DHTML scripts, and Terms Of Use, visit dynamicdrive.com-->

-->
* * * * *
Alleghany Foundation Hosting Online Giving Day for All Local Nonprofits




Covington, VA (June10, 2021) - On June 15th the Alleghany Foundation will be hosting an online 24-hour fundraising event to support the nonprofit organizations that make this area stronger.  This fundraising event is open to all nonprofits with programs that serve the populations of Covington and Alleghany County, and there is no registration fee! Organizations can register at GiveLocalAH.org.  

'ÄúThere are so many groups doing important work in the community that Foundation resources cannot support all of these programs through traditional grants'ÄĚ said Mary Fant Donnan, executive director of The Alleghany Foundation. 'ÄúGive Local Alleghany Highlands is an opportunity for our area'Äôs nonprofits to engage with the community, and fundraise, in a new way.'ÄĚ

Give Local Alleghany Highlands will give residents the opportunity to learn about services being offered by local nonprofits and also to support these organizations with donations. Each organization participating in Give Local Alleghany Highlands will have its own page on the GiveLocalAH.org website.  These webpages will include information about what services are provided by the organization and offer an opportunity to submit an online donation to the organization. All organizations that participate in Give Local Alleghany Highlands will be able to use their webpages to fundraise year-round.

The Alleghany Foundation will be providing over $30,000 in prizes and bonus incentives that will foster friendly competition between organizations and encourage everybody to give local!  Nonprofit organizations interested in participating in Give Local Alleghany Highlands have until May 14th to register, but registering early will provide opportunities to participate in free webinars and access to other resources to help make the event a success.  If you have any questions please visit the GiveLocalAH.org website, or contact Daniel Grizzard at Ldaniel.alleghanyfoundation@gmail.com or (540) 962-0970.  

About The Alleghany Foundation: Founded in 1995 following the sale of the Alleghany Regional Hospital, The Alleghany Foundation seeks to be a catalyst for positive change in the Alleghany Highlands. The Foundation aims to focus its capital in a way that leads to a more civically engaged and prosperous community that builds upon its assets to produce opportunities for all residents. The Foundation invites community members to join us in this effort and give local on June 15th.
* * * * *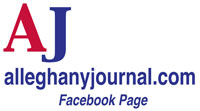 BACK TO THE JOURNAL'S HOMEPAGE!
* * * * *
KEEP UP WITH THE LOCAL NEWS! SIGN UP FOR ALLEGHANY JOURNAL BREAKING NEWS BELOW!
FREE Breaking News Sign Up Here!
---